Private home care for cancer patients, health care, cancer care, home care and home health
Caregiving is a labor of love. We are the best patient healthcare provider for cancer. When faced with a difficult situation such as being ill(cancer), it is always preferable for a patient to be in your own home improving your health care by treatment, surrounded by people you love for support and feel comfortable with. It is the Right Choice Home Care that help provides the appropriate level of resources for treatment of cancer, health care assistance and services that people/patient in need always desire that is home care aide. Our agency, The Right Choice Home Care is a patient healthcare treatment resources provider that provides the highest level of health care, services and support in the comfort of your own home. We are your suitable home care provider that gives the best home health services and resources and treatment for cancer. We believe that each individual is distinct, with his or her own set of health care preferences and desires.
Because every patient/person is unique, our agency is a home care agency that provides services and resources that is completely tailored to them. At the end of the day, you decide what type of tasks or services and care you require, and our health care team are here to support you with the best home health aide. We create a customized care package that is tailored to each patient for their specific needs and support. Caregiving occurs gradually over time. No matter how many hours of care you require, whether it is for a short period of time or over an extended period of time, our services are tailored to your specific needs. If your requirements change, our care will change as well. Home care aide is the best option if there are any disorders for a senior.
Specialized Care for Cancer Patients
The American Cancer Society org research provides an information that 1 in 3 people will be diagnosed with cancer in their lifetime. Research shows that hospital stays for a person/patient with cancer have been reduced as a result of advancements in cancer treatment and changes in health-care delivery systems and home care services. Still, cancer patients frequently require specialized home care services and health care assistance as they undergo chemotherapy, radiation therapy, and surgical treatment for their cancer disease. The assisted living nurses at right choice homecare provide temporary and ongoing care and home care services to patients to ensure that your loved one remains safe and comfortable in their own home. Cancer care require precise nursing needs and nursing care's to livestrong.
The benefits of cancer patient home care are not new to cancer patients. Researchers conducted a randomized clinical trial for cancer to determine the effects of home nursing care versus usual office care for cancer patients. The results and information were published in the journal cancer. However, despite the fact that there were no differences in pain in cancer patients, there were statistically significant differences in symptom distress, enforced social dependency, and health perceptions of the cancer patients. These findings and information suggest that home care can assist cancer patients in avoiding unnecessarily distressing symptoms and in maintaining their independence for a longer period of time by home care services.
From assisting with daily activities and housekeeping and home care services to providing support and education during nausea, anemia, pain, infection, and other complications, cancer caregivers and home care reduce stress and ensure that patients are as comfortable as possible during their cancer treatment. We provide the best and suitable patient patient support.
About Right Choice Home Care
There are many agencies and organizations out there that gives many program, but we are the best. Right Choice Home Care is a Certified Private home care organizations for cancer patients Care Agency.  Our team of educated professional have years of experience providing exceptional help and care for cancer patients in the home, clinical settings and even during travel. Caregiving is a labor of love, once you know us you will thank us. We are 24 Hours a day, 7 days a week including weekends and holidays. Click or call us and ask for more information about Right Choice Home Care.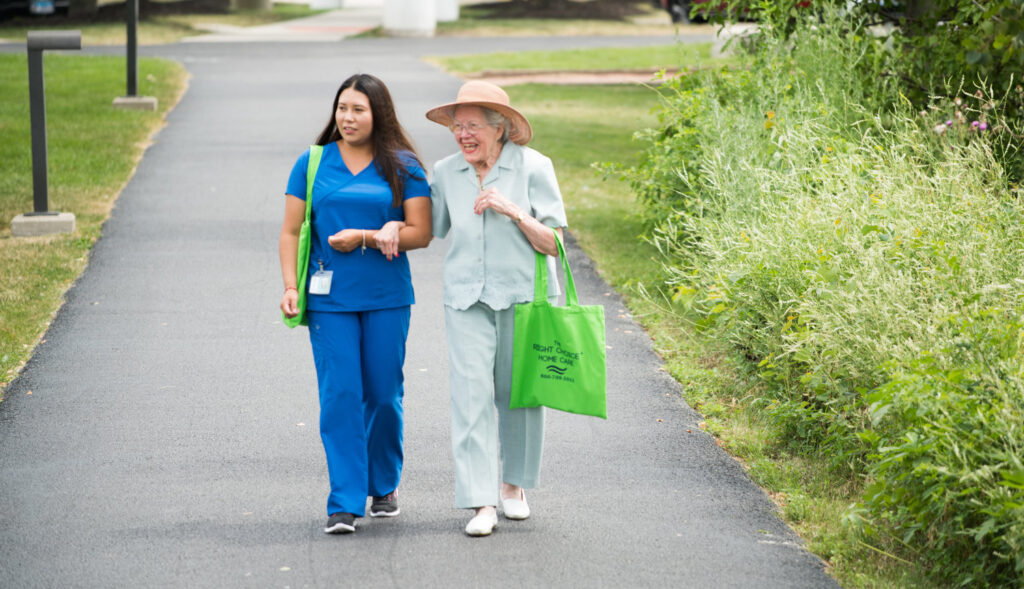 The Approaches Taken by Right Choice Home Care For Cancer Patients At-Home Health Care
The American Cancer Society org research provides an information that 1 in 3 people will be diagnosed with cancer in their lifetime. Cancer care require professional nursing help and needs. A cancer diagnosis can be a life-altering event that appears to be an overwhelming challenge. No matter what type of cancer is diagnosed, whether it is breast cancer, lung cancer, prostate cancer, or another variety of cancer, the journey ahead will be difficult and will require help. Good news is that it does not have to be treated with on its own, which is a relief. In the course of providing chronic disease management services, our home care professional can be by your side to help you deal with the day-to-day realities of the disease and provide necessary information. There are many agencies out there, but we are the best.
A typical care plan include the following:
The certified oncology nurse must be informed of any changes in vital signs on a daily basis. We have the best certified oncology nurses.

Cooking nutrient-dense meals that are appropriate for the diet suggested by a patient's oncologist or doctor.

Being there to accompany you to and from specialist appointments, cancer, chemotherapy treatments, or follow-up appointments and provide information.

Providing assistance and information with household activities such as light housekeeping, laundry, grocery shopping, and errands.

Providing caregiver support and solutions, as well as assisting with stress management
Why Should You Consider Cancer Home Care?
A cancer diagnosis can be a life-altering event that appears to be an overwhelming challenge and need care services and proper medications. Being able to remain at home while receiving professional care services and medication and caring assistance from home care can help to reduce some of the burdens associated with cancer treatment. At Right Choice Home Care, a licensed nurse develops a tailored Care Plan that can be carried out from the comfort of one's own home and is reinforced by a Home Health Aide who is dedicated to the care of those who are afflicted by the condition and also provide medications. After that, a trained caregiver is matched to your loved one's unique needs and services in order to ease their stress and offer comfort for cancer patients and their families during their treatment. This can involve aid in dealing with the side effects of radiation therapy as well as the physical toll that it takes on the patient's body. All of our private nurses for cancer patients have a great deal of experience in cancer care and can provide valuable assistance to cancer patients as they go through their treatment.
Right Choice Home Care Provides the Following Care Services
Cooking and meal preparation

Light housekeeping including laundry

Grocery shopping and errands

Companionship

24 Hour and/or live in after hospital 

Assisting with walking and transferring from bed to wheelchair

Medication reminders

Transportation to hospital appointments, supermarket, pharmacy

Respite or relief for family

Personal care, including bathing and dressing

Status reporting to family
Contact Our Therapy Office
Read Reviews From Families We've Had the Pleasure to Serve
Serving Cook, Will & Dupage Counties of Illinois
Interested in joining our team?
We are hiring home care cancer specialists for various services.